The Importance of Telemedicine During COVID-19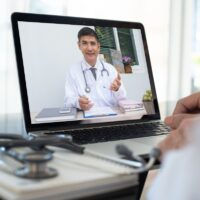 The COVID-19 coronavirus pandemic wreaked havoc on infrastructure across the world, in all areas of life. The provision of healthcare has been complex, difficult, and dangerous. As recognized by medical journals, government officials, and medical experts around the world, the efficient use of telemedicine has been vital in alleviating many of the problems created by the pandemic concerning the provision of medicine. Continue reading for a discussion of some of the important roles telemedicine has served over the last year.
Treatment Without Fear of Viral Transmission
One of the key features of telemedicine is the fact that it obviates the need for in-person care. Throughout the COVID-19 pandemic, all manner of businesses, including healthcare providers, have been forced to cut out non-essential services. For months, any service that was not absolutely necessary for regular life was rendered unavailable. Even where not outright prohibited due to quarantine, individuals were extremely hesitant to engage.
In the healthcare arena, this situation manifested as patients refusing to seek treatment for anything less than severe, critical injuries and illnesses. Hospitals were overrun with patients infected with the coronavirus, and even when capacity began to increase as the number of COVID patients dwindled, patients were still extremely hesitant to visit hospitals and medical offices unless strictly necessary. Types of care that are not seen as life-saving, such as mental health care, simply fell by the wayside. People were not willing to go see a therapist in person if that meant risking exposure to a deadly infection.
Moreover, certain at-risk populations were especially limited in care options. Elderly individuals and others with preexisting conditions that increased the risk of a severe or fatal reaction to the novel coronavirus were either unable to receive the treatment they need for ongoing conditions or were forced to choose between seeking continued treatment or protecting themselves from infection but forgoing the treatment they need.
Telemedicine, and telepsychiatry in particular, provided a means to get important medical diagnoses and treatment without facing the risk of exposure. Patients can see healthcare providers through a virtual medium, meaning they need only risk entering the medical office conference room (or even their own home, depending on the service provider). According to studies, telehealth visits increased by over 150% over certain periods in 2020 as compared to the same periods in 2019. Telemedicine allows patients to obtain the care they need to survive and thrive, without worrying over their safety.
Improved Access to Health Care
Even where healthcare was necessary and sought-after, healthcare providers are limited in many areas across the country. Certain services, such as psychiatry, are simply unavailable in vast swaths of the United States. Telemedicine has allowed service providers to reach patients in these areas and provide necessary consultation, diagnostic, and treatment services. Patients and providers alike do not need to spend the time, money, and effort of traveling to far-off locations to effect treatment.
According to a number of studies, telemedicine has become and can remain a vital service, particularly in light of the pandemic. Per one study of the use of telemedicine during the pandemic published in BMC Public Health, for example: "Remote care reduces the use of resources in health centers, improves access to care, while minimizing the risk of direct transmission of the infectious agent from person to person." As stated by the U.S. Centers for Disease Control, telehealth services are helpful to "[e]ngage in case management for patients who have difficulty accessing care (e.g., those who live in very rural settings, older adults, those with limited mobility)."
Access to healthcare became of particular concern during the coronavirus pandemic, but it is not a problem that will simply disappear once the emergency declarations have been lifted. Telemedicine provides a means for circumventing the traditional barriers to healthcare access in areas across the country, improving the health and safety of all parties.
If you are a healthcare provider or employer who would benefit from a variety of licensed and effective psychiatric care specialists, reach out to Orbit Health to discuss your options for telepsychiatry today.